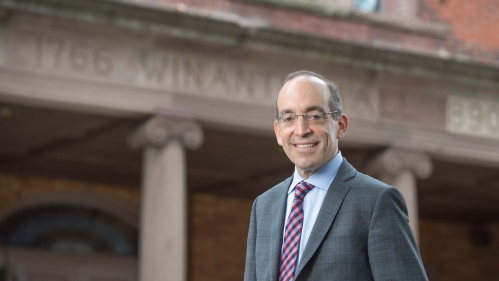 Meet David A. Cohen
Vice President for University Labor Relations and Special Counsel for Labor Affairs
David Cohen serves as Vice President for University Labor Relations and Special Counsel for Labor Affairs, leading the Office of University Labor Relations in the Office of the President in the negotiation, administration, and interpretation of the faculty and staff collective negotiations agreements between the University and the labor unions representing University faculty and staff. Mr. Cohen supervises the faculty and staff labor relations specialists, who support him in the administration of the University's labor relations policy. Mr. Cohen also serves as the President's liaison in collective negotiations with each of the University's unions.  
As Special Counsel for Labor Affairs, David Cohen serves in a leadership role in the Office of the Senior Vice President and General Counsel as the principal legal advisor, through the Senior Vice President and General Counsel, on labor policy issues and decisions affecting the University. In addition, Mr. Cohen collaborates with, and obtains input from, OGC attorneys to develop and implement legal decisions and strategy related to University labor relations and the handling of administrative and other proceedings arising from, or related to, the University's collective negotiations agreements and other labor-related issues.
Prior to being promoted to his current role, Mr. Cohen served as Associate Vice President and Deputy General Counsel for Labor and Employment in OGC. Following law school, Mr. Cohen served as a law clerk to the Honorable William W. Wenner on the Maryland Court of Special Appeals. He began practicing labor and employment law in Baltimore, Maryland and then was an associate and partner at Carpenter, Bennett & Morrissey in Newark, New Jersey. Mr. Cohen then also was a partner at Saiber LLC. At both firms, he specialized in representing public and private sector employers in all areas of labor and employment law.
In March 2010, the Governor of the State of New Jersey appointed Mr. Cohen to serve as Director of the Governor's Office of Employee Relations. From March 2010 to April 2014, Mr. Cohen served as the Governor's spokesperson in collective negotiations with all of the labor unions representing employees in the Executive Branch. Mr. Cohen also served as the Chair of the Police and Fire Public Interest Arbitration Task Force. In addition to his legal work, Mr. Cohen was as an elected member of the Berkeley Heights Township governing body for nearly 12 years, serving as Mayor of the Township for almost 10 of those years. Mr. Cohen also served for over 12 years on the Township of Berkeley Heights Planning Board.
Mr. Cohen received a J.D. from the American University Washington College of Law and a B.A. in Economics from Lehigh University. Mr. Cohen is a member of the New Jersey, Maryland and District of Columbia Bars.